'Rock Music' Dating Sites*
Along with Rock Passions (the site you are on now), the sites listed below all focus on connecting rock music loving singles with others who enjoy rock music. While there are a large number of 'music focused dating sites', it turns out there are FEW designed specifically to connect single rock musicians or single rock music lovers. If you looking for someone who shares your passions for this particular style of music, then you are in the right place. Check out the sites below to find the one that is right for you.
AD

Rock Music Dates
Where Real Rockers Meet
Rock Music Dates connects rockers looking for love and romance. If you love rock music and you are looking for someone who enjoys rock concerts, this is the site for you. Join and find your rock music match today!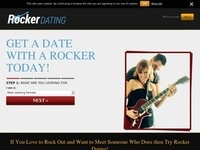 Rocker Dating
If You Love to Rock Out and Want to Meet Someone Who Does then Try Rocker Dating!
Browse thousands of rocker personals of the hottest rocker singles and give yourself a chance to find a partner of your dreams. Try Rocker Dating and have fun!

Rock Music Lovers
Love Rock? Find Your Rock Fan Date! Join Rock Music Lovers Today!
Welcome to Rock Music Lovers Dating! Crank the volume up and enjoy good old rock while you are flirting and sharing your love for rock music with others!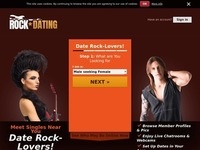 Rock-Dating
Date Rock Lovers!
Are you looking for a site where you can connect with others who love rock music? Is Spotify and Pandora set up to give you rock classics or current popular rock songs? If the answer to any of these questions is yes, then Rock-Dating is the site for you. Find other single rockers to rock out with today!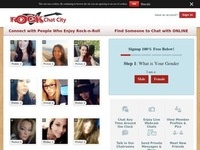 Rock Chat City
Make Some Noise at Rock Chat City!
Do you spend countless hours listening to rock music? If you do and want to meet other rock lovers, get ready to shred when you join Rock Chat City now!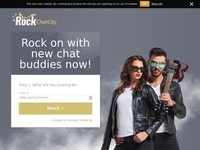 Rock Chat City Net
If you're into hard rock, punk, metal or just enjoy exploring the alternative music genres online, then be our guest.
Rock Chat City Net will help you meet other rock music enthusiasts and transform your social life in a matter of days!

Meet Music Lovers
Find Local Music Loving Singles Today!
Meet Music Lovers is definitely designed to connect singles around their love of music. This is immediately apparent by the dropdown option required during registration where potential members identify their preferred style of music, allowing rock music lovers to define themselves within the site based on that interest. Considering the few dating sites (aside from Rock Passions) providing this option, perhaps Meet Music Lovers could help connect like-minded single rock music lovers.
AD
*Sites listed on this page are a combination of ads, affiliate related Sites and general non-partnership related sites that match the theme of Rock Passions.